So. You've shopped Talisman Studios and have just received your order. You've got a fistful of beautiful hair accessories and though you know they'll give any Plain Jane ponytail a healthy dose of va-va-voom, you just have the feeling there's more.
Well! There certainly IS more one can do with our little ornamental accessories. I'll be doing an occasional post on stylists who offer tips on ponytail techniques and to start things off - we have an incredible find for anyone who likes to show a creative flair with their hair.
She Does Hair
is a blog with so many ponytail styles you could do a new 'do' each day of the year if you felt like it. The writer, who goes by the handle BlackeyedSue, provides clear photos to show how she achieves each look. Her model is her young daughter, and though many of the styles do have a youthful exuberance, they easily translate to looks for teens, young ladies, glamour goddesses, SteamPunk afficionados, sexy librarian types, and even - let's not forget her! - our working women, who want a new way to finish off a simple hairstyle that takes them from the desk to a night on the town.
Some of my favorites:
Technique - Knots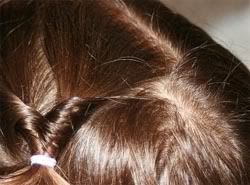 Her is a VERY easy way to get a cute look that anyone will be able to achieve great results with. Imagine a dainty glass button ornament finishing off that twist! Sweet!
Four Messy Piggies All In A Row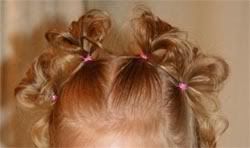 The stylist uses bows to give her daughter a cute-as-a-button hairstyle, but with Talisman Studios hair accessories, you can use those buttons to get a cute-as-can-be! look for a teen or punky/emo girl.
Star Part Puffy Braids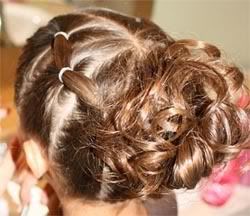 This look will take some effort, but - I think it will be worth it! So cool. For office, weekend or a special date. Depending on your choice of ornaments, the look goes from casual to dramatic.
As an enticement to try out these styles - stay in touch with
our shop
. We've got literally HUNDREDS of diminutive ornaments we haven't yet added to the inventory. We're readying them as we write, and will starting adding them to the shop in the upcoming days. Some of the multiple pony's that our stylist shows on this featured blog will be perfect for these hair accessories!
~-~-~-~-~-~-~-~-~-~-~-~-~-~-~-~-~-~-~-~-~-~-~-~-~-~-~-~-~-~-~-~-~-~-~-~-~-~-~-~-~-~-~
Esty Sellers - Scroll to the lower portion of this page to get links to helpful marketing/selling tool/informational sites sites.

Esty Shoppers - Scroll to the lower portion of this page to get links to blogs from Etsy sellers!
~-~-~-~-~-~-~-~-~-~-~-~-~-~-~-~-~-~-~-~-~-~-~-~-~-~-~-~-~-~-~-~-~-~-~-~-~-~-~-~-~-~-~